Woman's City Club of Greater Cincinnati celebrated its 100th birthday in March 2015 with a gala dinner and entertainment. Click this Centennial Celebration Video link to share in the festivities. Click here to join WCC!

Books of the  Centennial Celebration Year
Order books  by using Paypal below or call 513-751-0100
Woman's City Club New Centennial Cookbook — "Stirring the Pot"
Woman's City Club's beautiful new cookbook, Stirring the Pot in the Kitchen and the Community for 100 Years, is filled with recipes that range from family favorites to company dishes to everyday quick and easy cooking.  This book will please both accomplished and novice cooks. Spiced up with culinary history and fascinating food facts, plus helpful Editors' Notes to guide you, this book is as fun to read as it is useful to cook with. The book has 208 pages including a full index, a sturdy glossy cover and a premium spiral binding so it lies flat when open.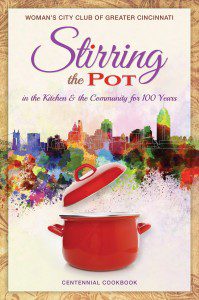 Lighting the Fire, Leading the Way
The centennial volume of Woman's City Club's 100-year history provides a narrative of our past 50 years from 1965 through 2015. Author Rachel Powell picks up the WCC story as recounted in the first volume by Andrea Tuttle Kornbluh, Lighting the Way: The Woman's City Club of Cincinnati 1915-1965.
The two volumes tell the story of how the generations of WCC members worked together over this past century to carry out the Club's mission, one of strengthening the Greater Cincinnati community through educating, empowering and engaging our citizens to participate in promoting the common good. As we embrace the challenges of this next century, these volumes provide an opportunity to celebrate and reflect on the outstanding achievements of our foremothers.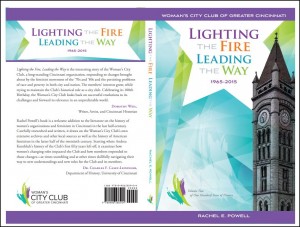 Shipping and handling for one to four books = $3
For orders of more than four books, please call WCC at 513-751-0100 for shipping costs.