Interested in shaping the future of
Greater Cincinnati?
JOIN US!
WCC initiates community conversations, educates people on local issues and moves citizens to action consistent with our values.

NOTE: Woman's City Club offices are now open with limited hours: Mondays, Wednesdays and Fridays from 10-2 pm.
If you have any questions, email us at wcc@womanscityclub.org or call
513-751-0100 and we will respond as soon as possible.
Event Price:  $55
All profits will benefit the Education Awards Fund.
A raffle of interesting baskets will take place!
MEET OUR SPEAKER
Barbara Turner, CRCP has more than 35 years of leadership experience in the financial industry. After joining Ohio National in 1997, she steadily rose to a diverse range of executive positions and in November 2018, became Ohio National's 11th president and chief operating officer. Ms. Turner is the first woman and person of color to serve in this role. A Cincinnati native, she has a special passion for mentoring at-risk teenage girls and single mothers, and helping individuals and families achieve self-sufficiency and financial security.
---
COMMITTEE MEETINGS



(All online at present except as noted.)
Communications Committee:
Tuesday, May 31, 5 pm
Committee meets monthly on last Tuesday
Membership Committee:
Wednesday, June 1, 5:30 pm
Committee meets monthly on first Wednesday.
The National Speaker Forum with Dr. Mary Frances Berry on April 6 was an inspiring and very enjoyable evening.  If you are interested in acquiring photographs, please use this link to view the selection and make a purchase.  We are grateful to the photographer, Steven Easley, for all his work.
---
Watch Part 2 of the two-part March/April forum Ohio River Watershed: How to Keep it Healthy.  This video, Who Speaks for Nature?, can be seen HERE.
Watch Part 1 of the two-part March/April forum Ohio River Watershed: How to Keep it Healthy.  This video, Greater Cincinnati Water Works - Ensuring Good Water Quality from Source to Tap, can be seen HERE.
Watch the video of the February 2022 Forum by clicking:  The Park Board: Time for a Refresh? - YouTube
Watch the video of the January 2022 Forum: A New Day at City Hall:
Rebooting the Council-Manager
Form of Government: YouTube Link HERE
OUR CENTENNIAL BOOKS CAN STILL BE PURCHASED:
CLICK HERE TO ORDER ANY OF OUR BOOKS
Lighting the Fire, Leading the Way: WCC's history from 1965 - 2015
Stirring the Pot in the Kitchen and the Community for 100 Years,
with recipes from WCC members from World War I, the Fifties and the present
Keep on Fighting: The Life and Civil Rights Legacy of Marian A. Spencer
by Dot Christenson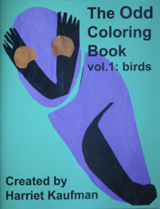 NEW: The Odd Coloring Book
by WCC Member and Artist Harriet Kaufman