Feist-Tea is an annual fun event, held in December, that honors "feisty" members who have contributed greatly to the work of the Club's as well as the the community.

Feist Tea Fundraiser
Woman's City Club Honored Three Feisty Women on  December 5, 2021
At Twelfth Annual Feist Tea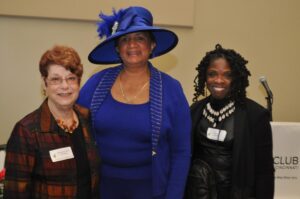 Our 12th Annual Feist Tea celebration was held at the Kenned Heights Art Center Annex on December 5, 2021.  And, how great it was being together in-person! All attendees could feel the synergy and air of celebration as soon as they entered the banquet room. This lively, interactive, and relaxed  celebration of this year's feisty honorees as well as previous honorees, past presidents, and new members, was attended by nearly 90 members and friends. Opened with an enjoyable social hour, the afternoon Tea offered light fare catered by Venice on Vine and a memorable slide show compiled by Jeff Dey, reminding us of this past year's wonderful programs and activities. READ MORE
We would greatly appreciate your generous donation to honor our 2021 Feisty honorees and to support WCC's programs and events.