The Environmental Action Group focuses on 
 environmental justice issues – the need to ensure a better quality of life for all, now and into the future, in a just and equitable manner, while living within the limits of supporting ecosystems. WCC collaborates with other civic, neighborhood, and environmental organizations in the city to implement public education and action projects to raise eco-awareness, green the urban environment, and advocate for equitable policies that protect air and water quality from the threats of industrial pollution.
Current activities: 
: We have been collaborating since 2012 with 16 other civic & environmental organizations in Cincinnati, operating under the banner of the Past Plastic Cincinnati Coalition to reduce single-use plastic pollution in our city. We successfully lobbied City Council to finally pass legislation in 2020 banning single-use plastic bags in Cincinnati. The ban is currently on hold due to the passage of Ohio House Bill 242, prohibiting all municipal bans throughout Ohio. We are looking at strategies to reinstate Cincinnati's ban as soon as the State ban expires in 2022. We are sharing Cincinnati's road map statewide with other cities who seek to craft their own bans. As consumers, we must call out the world's top polluters and make them – their markets and their consumers – answerable for the true cost to the planet.  Read more:
To tackle such laws that protect corporate profits over the health of communities, WCC is working with The Poor People's Campaign and Citizens Recognizing Rights of the Ohio River Watershed (CROW) to legally protect a community's stewardship over its own local ecosystems. We have also been working with the Ohio River Guardians who oppose the "Appalachian Petrochemical Hub," an industrial facility that will manufacture more plastics, polluting our air and water with harmful chemicals and microplastics. With speakers from this group, WCC held a forum in 2020 on "Threats to our Drinking Water," a program that exposed the risks this new industrial infrastructure brings to us here downstream. Link to program?
WCC works in concert with the LWV Natural Resource Committee. Early in 2021 we organized a Study Pages: "Is it Time to Rethink Recycling?" We also presented a Sierra Club Innings on ways we can shift consumer culture away from single-use plastic as well as taking the fight to its source by leveraging consumer buying power to reduce the market for plastic. In our meetings, we explore innovative alternatives to plastic packaging, bottles, straws, and Styrofoam, and consider current models for zero-waste shopping in a future circular economy. What did we do before plastic? In August, WCC joined the coalition to present a program on "The Long & Short of the Plastic Problem" with films and panel discussion. It was an opportunity to present Councilman Chris Seelbach with an award for his leadership in City Hall. WCC also works with the League and Communities United for Action (CUFA) to promote affordable sewer rates. MSD's current base rate places an undue burden on lower-income households. Link to Study Pages?
In December 2021, WCC joined 9 other organizations to sponsor an in-depth virtual conversation with Rob Bilott, a Cincinnati-based lawyer who has become famous for pursuing a class-action lawsuit against the chemical giant DuPont. We learned more about his steadfast advocacy to promote legal protections against the threats of "Forever Chemicals" (PFAS) that have permanently entered our drinking water and our bloodstreams. Link to January Bulletin article?
WCC cosponsors a regular series of monthly conversations called Changing CO2urse: Local Solutions to Global Crises (running since 2004 at St. John's UU Church). The program has been on hold due to COVID. The last program, held in February, 2020, addressed the source of the global plastic pollution crisis. In the meantime, we are working with the Green Umbrella Impact Team called Faith Communities Go Green that seeks to create a more sustainable and equitable future by mobilizing their moral voice to reduce the risk of catastrophic climate change. Link to running list of Changing Course programs?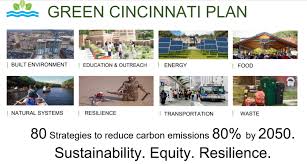 How to become involved:
Past Plastic Cincinnati Coalition holds monthly meetings every fourth Tuesday at 6:30 pm. LWV Natural Resources Committee holds monthly meetings every fourth Monday at 11 am. Join the WCC Bulletin news team to submit articles covering environmental issues in the city, county, and state. To join us in our work, contact Jeanne Nightingale.
In the years 2005-2008, WCC was part of the Growing Green & Healthy Schools Network, which was instrumental through town halls and technical workshops, in getting CPS to commit to "green" our new schools by building them according to LEED-certified standards. In follow-up projects, the network designed and implemented a green curriculum for these new green schools.  In 2010, we supported the work of the Mill Creek Restoration Project and the installation of Laughing Brook wetland project at Salway Park.
We also supported the work of the Mayor's Climate Protection Task Force on energy conservation, transportation, waste and air quality, land use, and outreach to governments, organizations, businesses, and citizens. We participated in the anti-fracking organization SW Ohio No Frack Forum whose members lobbied to pass a city ordinance protecting the city from frack-waste injection wells. In 2021, we lobbied to repeal Ohio HB 6 in order to restore and enhance Ohio's sustainable energy goals.