Status of Women Action Group
We are a group committed to taking action and becoming involved while having an enjoyable time as we move toward our goals.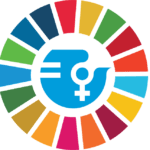 Purpose

:  The

Status of Women Action Group addresses a wide range of women's empowerment issues, including their economic and mental and physical health, working in collaboration with other community organizations.
Current activities:  The Status of Women Committee focuses on supporting agencies that serve women's physical and financial health and family planning. With Thriving Cincinnati, it holds an annual Women's Economic, Mental and Physical Health and Equity Expo on Fountain Square. This year's event took place on Friday, September 27, 11:30 am on Fountain Square with the theme of "Pennies on the Dollar: Equal Pay for Equal Work."  About 25 organizations participated.  Speakers were Nicole Armstrong, CEO and founder of Queen City Certified, first employer  certification and leadership program for gender equity in the US workplace, and Michelle Thoman, Registered Nurses Association at the UC Medical Center.
Members of the committee (as well as other WCC members) participate in the local CEDAW collaborative, the international Conference to Eliminate Discrimination Against Women.
Supported the Off the Streets program in collaboration with Anna Louise Inn, Cincinnati Union Bethel and the Freedom Center National Underground Railroad Museum. The program was developed by the Cincinnati Police Department that partnered with CUB to offer prostitutes a safe haven and chance of a better lifestyle.  Presented a forum about the program.
Worked with the public awareness committee of the End Slavery Now to help abolish human trafficking.  In January 2015, presented an educational forum on human trafficking.
Have held four annual Women's Economic, Mental and Physical Health and Equity Expo on Fountain Square. These events includes entertainment and informative talks.  Representatives from more than 20 organizations staff tables to answer questions about their services and distribute information pamphlets and fliers.
As members of CEDAW, successfully  passed an ordinance that included: the $8,000 funding from city, creation of a task force, a gender analysis study, and recommendations from the task force on actions needed,  as well as a time frame and annual progress reviews.
One issue at the forefront of our agenda is income inadequacy and its disproportionate harm to women and minorities. When any member of our community lacks access to employment or the ability to earn a living, it harms all of us. Inspired by the dedication of Louise Spiegel, a subcommittee, Thriving Cincinnati,  was formed to advocate for the economic well-being of families in Cincinnati. The Louise Spiegel committee built on the PULSE: 2020 Jobs and Gender Outlook report of the Woman's Fund of the Greater Cincinnati Foundation. The report identified barriers to economic self-sufficiency for women, families, and youth and provided a springboard for meaningful action. Our shared goal – to inspire positive change – led us to create the Thriving Cincinnati initiative.