History of Marian A. Spencer Statue 
 After finding out that the City of Cincinnati didn't have a single statue to honor a woman, Woman's City Club decided it was high time to change that. And when the organization considered what woman should be given that honor, they immediately thought of her fellow Wo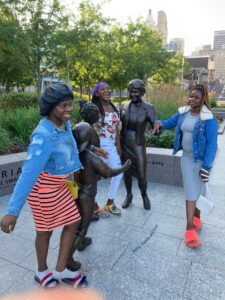 man's City Club member and tireless human rights activist — Marian Spencer.
That was back in May of this year, just a few months before Spencer died on July 9, at the age of 99. Schneider asked their shared friend Dot Christenson if she would ask Spencer if she would want to have a statue to commemorate her life. When Spencer said "I would be honored to have a statue in my honor," and signed a statement to that effect, Schneider hit the ground running to get the Woman's City Club on board, start fundraising, find a sculptor and pin down a location.  READ MORE
MARIAN A. SPENCER  STATUETTES NOW AVAILABLE
Marian A. Spencer Statuettes are available for purchase! These 10 inch high statuettes are replicas of the original statue at Smale Riverfront Park.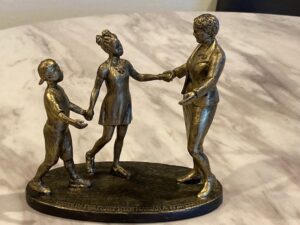 The cost is $75 each and the proceeds will go to the Marian A. Spencer Scholarship Fund administered by Woman's City Club.
Statue Campaign News Coverage:
WLWT Channel 5 story: https://www.wlwt.com/article/statue-to-honor-civil-rights-icon-marian-spencer/29445077
WVXU 91.7 FM story and interview: https://www.wvxu.org/post/statue-honoring-marian-spencer-coming-smale-park#stream/0
WCPO Channel 9 story: https://www.wcpo.com/news/our-community/civil-rights-icon-marian-spencer-to-be-honored-with-life-sized-statue-along-cincinnati-riverfront
WXIX Channel 19 story: https://www.fox19.com/2019/10/11/local-club-city-leaders-announce-fundraising-efforts-build-statue-honoring-marian-spencer/
WKRC Channel 12 story: https://local12.com/news/local/group-raising-money-for-marian-spencer-statue